Temporomandibular Disorders (TMD)
Headaches and Chronic Facial Pain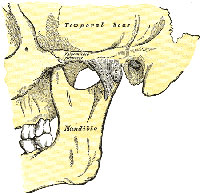 TMJ is the term widely used when referring to Temporomandibular Disorders (TMD), a complex group of disorders characterized by pain and limited mobility in the temporomandibular joint (TMJ) as well as surrounding tissue. It is estimated that 35 million adults suffer from TMJ Disorders, however, there are few medical professionals experienced in diagnosing and treating these complicated conditions.
Dr. Virga has done focused post graduate training on the diagnosis and treatment of TMJ Disorders. Using the latest techniques combined with state-of-the-art technology, Dr. Virga is able to identify, diagnose and treat the root cause of TMJ disorders and provide relief to patients suffering from persistent and painful symptoms.
Signs & Symptoms of TMJ
Signs and symptoms of temporomandibular joint disorder vary in their presentation and can be very complex, but are often simple. On average the symptoms will involve more than one of the numerous TMJ components: muscles, nerves, tendons, ligaments, bones, connective tissue, and the teeth. Ear pain associated with the swelling of tissue near the joint is a symptom of temporomandibular joint disorder. There are many causes for TMJ Disorders, often, it is trauma to the face or head. Patients with TMJ Disorders often exhibit signs and symptoms very different from one another, which makes diagnosing TMJ Disorders a challenge.
Frequently signs or symptoms may include:
Dull, aching pain in the face
Clicking, popping, or grating sound when opening or closing the mouth
Biting or chewing difficulty or discomfort
Earache (particularly in the morning)
Headache (particularly in the morning)
Hearing loss
Migraine (particularly in the morning)
Jaw pain or tenderness of the jaw
Reduced ability to open or close the mouth
Tinnitus - Ringing in the ears.
Neck and shoulder pain
Dizziness
Diagnosing and Treating TMJ
In dentistry, there is no one size fits all solution for any problem or condition; this couldn't be more true for TMJ Disorders. Each problem is unique to the individual patient and treatment planning is entirely dependent on the diagnosis. Dr. Virga has worked with many TMJ patients, giving him a library of cases to reference and compare to when creating a treatment plan.
Causes of TMJ
There are many external factors that place undue strain on the TMJ. These include but are not limited to the following:
Bruxisim (repetitive unconscious clenching or grinding of teeth, often at night).
Over-opening the jaw beyond its range for the individual or unusually aggressive or repetitive sliding of the jaw sideways (laterally) or forward (protrusive). These movements may also be due to parafunctional habits or a malalignment of the jaw or dentition.
Trauma
Malalignment of the occlusal (chewing) surfaces of the teeth due to defective crowns or other restorative procedures.
Jaw thrusting (causing unusual speech and chewing habits).
Excessive gum chewing or nail biting.
Size of food bites eaten.
Degenerative joint disease, such as osteoarthritis or organic degeneration of the articular surfaces, recurrent fibrous and/or bony ankylosis, developmental abnormality, or pathologic lesions within the TMJ.
Patients with TMD often experience pain such as migraines or headaches, and consider this pain TMJ-related.
TMJ Therapy Methods
When treating patients with TMJ Disorders, Dr. Virga takes a conservative approach whenever possible. Therapies for TMJ may include:
Lifestyle changes and Elimination of para-functional habits. Some sufferers may also benefit from gentle stretching or relaxation exercises for the jaw.
Reversible treatments including
Splint therapy
Occlusal splints (also called night guards or mouth guards) reduce nighttime clenching in some patients, while increasing clenching activity in other patients.
Changes to the occlusion (bite) to correct problems or malalignment