My Team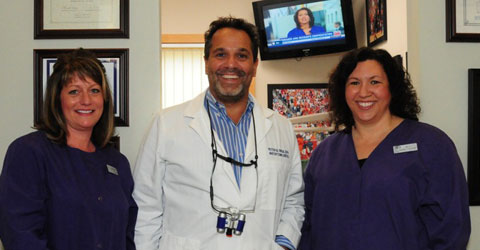 I feel so fortunate to work with two of the best assistants available today. I feel like I am the luckiest dentist to have these two people to work side by side with every day. I say this willingly to anyone that asks and would scream it from the rooftops. The bottom line is that in no way could I be where I am or practicing to such a high level today without them.
It is very unusual in the dental field to have one assistant last over 16 years. The fact that Bea, Lora and I have all been together for that long only highlights the high level of respect and admiration we have for each other.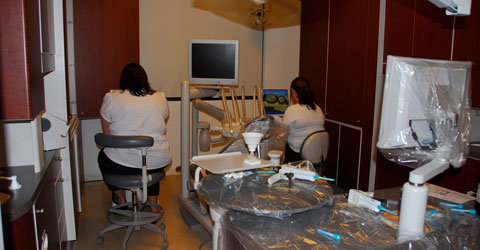 I am happy every day coming to work with two people who are so dedicated, friendly and competent. They never complain or fail to go the extra mile to make patients feel comfortable.
They both also are very open to changes in my practice. Due to the fact that I spend a large amount of time continuing my education as well as teaching other dentists, I am constantly changing and evolving. As humans, change is difficult and sometimes scary, but Bea and Lora embrace any changes that I would like to make because they feel change is good for our team and our patients.
The next time you are in the office, please feel free to thank them for their dedication, commitment, and willingness to always exceed the patients' as well as the doctor's expecations every day.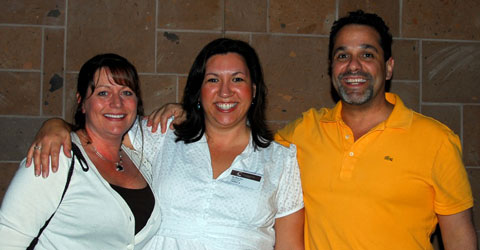 Bea Dier, Dental Assistant
Bea was born in sunny Salinas, California. She moved to Fairbanks, Arkansas in 1992, and while there she completed the American Red Cross Dental Assisting Program at Eielson Air Force Base. She then moved to Watertown in the spring of 1995, coming to work with us in June of that year. She enjoys dental assisting because of the variety the job offers -- every day brings a new challenge. She enjoys the patient interaction and loves it when patients know her by name. Most of all she enjoys seeing patients reactions when they see their new smiles.
Bea believes that patients can fully trust Dr. Virga's ability and knowledge when it comes to their dental treatment. According to Bea, Dr. Virga's education and continuing education motivates him to do the best job he can do, all the while keeping patients fully informed and educated about their treatment. Bea loves playing a role in this. When she's not at the office, she and her husband Tom enjoy spending the summer at Lake Bonaparte, camping, boating, fishing, and making campfires. They both enjoy music and spending time with friends as well. Bea also spends time gardening, cooking, and reading.
Loralee DiLeonardo, Dental Assistant
Loralee was born and rraised in the "North Country," where she graduated form General Brown High School in 1985. She married in 1988 and lived the military lifestyle for seven years, and her travels took her to various locations, including Ft. Campbell and Ft. Wainright. She came back to the area in 1995. Since joining our team in 1995, she's explored further education, completing modern dental assisting courses through Monroe Community College of Rochester, New York. She enjoys the fact that Dr. Virga is an education junkie, spending countless hours continuing his education in modern dentistry techniques and keeping up with current technology. During over 15 years together, she, Bea, and Dr. Virga have been able to truly grow together as a team. They're like a second family.
She wants every patient of Watertown Dental Health Group to be able to expect a comfortable dental experience. She promises more than just a checkup; patients will receive a complete, comprehensive oral evaluation. The team at Watertown Dental Health Group takes pride in ensuring each patient is informed and understands all the options available. Loralee and her husband have two children, and she enjoys anything outdoors, four wheeling, disc golf, and spending time with friends and family.