CEREC
CEREC is a cutting edge technology that allows a Dr. Virga to produce an indirect ceramic dental restoration using a variety of computer assisted technologies, including 3D photography and CAD/CAM. With CEREC, teeth can be restored in a single sitting, rather than the multiple sittings required with earlier techniques.
Single Appointment Restorations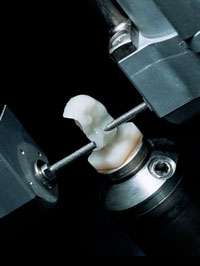 Most dental restorative methods require more than one visit to the dentist. This means that on the first visit, you get an injection of anesthesia, your tooth prepared, an impression taken, and a temporary restoration put on your tooth. You make a second appointment for a couple of weeks later, get another injection, have the temporary removed and have a permanent restoration put on.
With CEREC, the procedure is done in a single appointment, start to finish. With CEREC, Dr. Virga can use strong, tooth colored ceramic materials to restore your teeth to their natural beauty and function.
CEREC materials match the physical properties of natural tooth more closely than metal crowns. Specifically, when hot food or cold drinks are consumed the restoration and tooth expand and contract at closer rates so that they don't interfere with each other. Also, the materials are chemically bonded to your tooth, so Dr. Virga can save as much healthy tooth structure as possible while providing you with a dental restoration that actually strengthens your tooth.
Benefits of CEREC
Metal free – no silver-colored fillings or dental crowns
Natural, tooth-colored restoration
Hi Tech Accuracy
Biocompatible, anti-abrasive and plaque resistant ceramic materials
Extremely precise for long-lasting, natural results
Time savings. Patients usually only have to go one time, as opposed to two trips for a traditional crown; this also reduces the number of local anesthetic injections (injections) needed.
More conservation of tooth structure. Often times a partial coverage restoration can be completed vs a full conventional crown.
Stronger porcelain. Milled ceramic is stronger than hand layered and pressed.
Aesthetics. Homogeneous porcelain blends in better than other porcelains.
Natural. Ability to copy what was there previously can, but not necessarily, yield restorations that are duplicates of the pre-prepared tooth.
Only a few dentists nationwide have incorporated this sophisticated technology into their office. Imagine the convenience of having a dental crown placed in just one dental visit ! Experience cutting edge technology today with a CEREC restoration placed by Dr. Virga.